Benefits of

Membership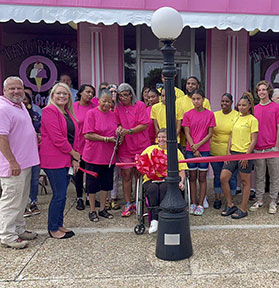 Connections
Networking events organized by the Taylor County Chamber of Commerce help you build relationships, meet other business professionals, expand your connections, and more importantly, find new customers. In addition, when anyone calls the Chamber looking for a referral, we refer ONLY chamber member businesses.
Credibility
A study conducted by The Shapiro Group found that when consumers know a business is a member of the Chamber of Commerce, they are 63% more likely to purchase goods and services from the company.
Visibility
You and your company gain visibility by attending events, sponsoring programs, or donating door prizes. This is targeted, effective, and affordable advertising to help you gain exposure on a small budget where you reach local business professionals.
Business Education
The Chamber offers a wide array of business education opportunities to give you the tools to run a smarter, more profitable business.
Legislative Advocacy
The Chamber speaks as a unified voice for the business community to elected and appointed officials, to promote pro-business legislation, create economic prosperity and enhance the quality of life. The Chamber works to minimize the legislative and regulatory burden on your business, and foster a sound economic environment in our county and state. As a member of the Chamber, you gain access to decision makers and can get involved in business issues that impact your business and community.
Community Outreach
The Chamber connects members to a wide range of local and statewide community and business leaders. Chamber events provide valuable insight on issues affecting businesses and the region.
Economic Development
The Chamber helps promote economic growth within Taylor County, allowing companies to grow their work forces. We promote and refer our Chamber member businesses through our online Business Directory. By being a member, you help create a strong local economy to keep our business momentum moving forward.
Mission Statement
Working to make Taylor County Educationally Competitive, Economically Prosperous, and Environmentally Responsible